Shopping Cart
Your Cart is Empty
There was an error with PayPal
Click here to try again
Thank you for your business!
You should be receiving an order confirmation from Paypal shortly.
Exit Shopping Cart
So, Sunday night was really rather fab, I must say!
Although I am not native nor of a, shall we say "time", where I would've known about this great British band (experience) "Loose Ends", it was really a major high light of the evening (!) as the room kinda gasped for air as they took the stage... Subtle, gentle line up of Carl Mcintosh (centre), his gorgeous backing singer (left) and skilled percussive beauty on congas (right).
I LOVE Carl's voice and may have asked if I could marry it...response still to follow.
Though it was nice just to have be praised by him, tbf.

Taliwa and her band were also really good ..overall great night. Wish you'd been there..? Check it out below ne!
Here are the highlights from the evening (incl. 2 numbers by myself and Nyika on bass "Don't & Effortless..listen to the whole thing!  But FYI; I'm on about 36:20): http://dekcollectors.podomatic.com/entry/2012-10-30T04_21_00-07_00
Notes: Few mistakes re moi were said; album released 2011 & I've taken part of the "Island Experiments".. xxx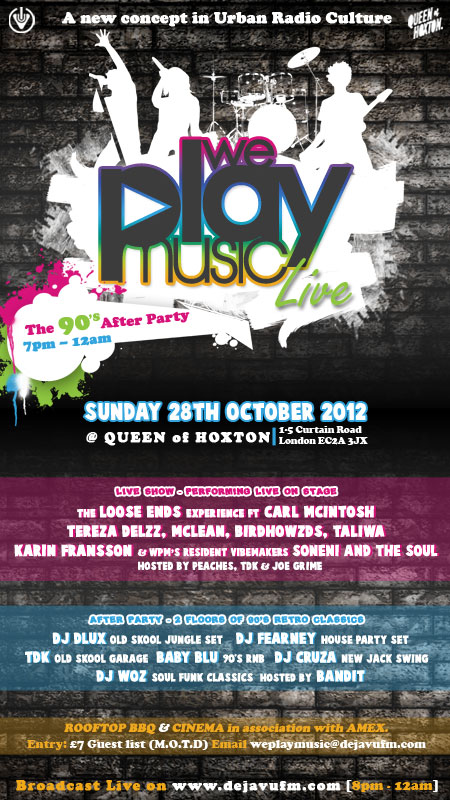 Well I don't know how many of you tuned in yesterday but I must say, I had a well giggley time at Brookland's radio in Surrey. Quite enoyed the whole village scene as well, a bit Midsummer Murder vibe..
Just thought I'd mention the show will be aired again on Wednesday (21st) and the Thursday morning (22nd) for the Americans:
"You can listen again to Surrey Unsigned Wednesday night from 9pm (UK) and also Thursday 5am (UK time) and for our US listeners, Wednesday Midnight US Eastern Time, 11pm (US Central) and 9pm (US Pacific) A huge thank you to Amy Obenski and Karin Fransson Music for two excellent live sessions! Next Sunday we welcome Sam Beeton for a memorable live session!".. David Durant and Brookland's radio. 
https://www.facebook.com/pages/Brooklands-Radio/199382373412954" target="_blank">https://www.facebook.com/pages/Brooklands-Radio/199382373412954
The other exciting thing going on is that I'm gonna be shooting a video for "Ordinary Thing" in October under direction of Nyika! We are getting ready to do this but am super short of cash and stuff so I've launched a campaing which I'm hoping people will share and hopefully get some aid through. :-) There may even be something in it for you, check it out:
http://www.indiegogo.com/Fund-an-extra-ordinary-video-making-girl-style-for-Karin-Fransson-with-crew?a=205789&i=addr
xxxxK

Hi
Well. as this this life of ours is a journey on which we meet people I want to tell you about some excellent ones from mine.
Andy Mitchell: Just superb singer. And, he is featured on guitar on my album. (yay). For all the latest news: andymitchellmusic.com. Debut album coming soon...
H.A.Y.L.E.Y Tucker provided some beautiful backings for me at the Elgin for some pre album samples in March.. she's got a website now: www.hayleytucker.co.uk. She will make the room go quite with the first line of her song for real. It's soulful folk, yes with some pop and blues. Check it.
The damnely gorgeous Juliet Russell has her brand new video out along with single : lush website: www.julietrussell.com. Overall lush this lady.
 Wade Bayliss, the instigator of the Island Experiment (theislandexperiment.com/) has got a rather smoking video on youtubage (featuring yours truly): http://www.youtube.com/watch?v=s6OynmIPJ4o. This is only the start of what's to come from this one; films, music, live nights..you name it. He'll set it up.
 That'll do for the first blog I think. Short and sweet.

Won't be long til I gotta say something more though so do come back and read some will ya.
x K

/