Shopping Cart
Your Cart is Empty
There was an error with PayPal
Click here to try again
Thank you for your business!
You should be receiving an order confirmation from Paypal shortly.
Exit Shopping Cart
It's so nice to be played on www.urbanliferadio.se on Sundays now and again by the charming and humble Mr C!
I am also glad to say the same guys at "Scandinavian Soul" decided to do a little interview with me about a month ago. It's up and you can read it here on their website!
On a separate note I can also indulge in telling you that I had a wonderful time doing a few gigs in Paris the other week and sold a few albums too (!). The pictures from this can be found on my facebook page and also as part of my current design here.. Talented street photographer, Oleg Sotnik, from Ukrain took the shots and you can check him out here
I will certainly try to write ever so slightly more often in this blog....:-)
Next stop: Jonkopingsgalan, Sweden! Playing at the annual event in hometown on the BIG stage. Woop!
xxxx take care

Well I don't know how many of you tuned in yesterday but I must say, I had a well giggley time at Brookland's radio in Surrey. Quite enoyed the whole village scene as well, a bit Midsummer Murder vibe..
Just thought I'd mention the show will be aired again on Wednesday (21st) and the Thursday morning (22nd) for the Americans:
"You can listen again to Surrey Unsigned Wednesday night from 9pm (UK) and also Thursday 5am (UK time) and for our US listeners, Wednesday Midnight US Eastern Time, 11pm (US Central) and 9pm (US Pacific) A huge thank you to Amy Obenski and Karin Fransson Music for two excellent live sessions! Next Sunday we welcome Sam Beeton for a memorable live session!".. David Durant and Brookland's radio. 
https://www.facebook.com/pages/Brooklands-Radio/199382373412954" target="_blank">https://www.facebook.com/pages/Brooklands-Radio/199382373412954
The other exciting thing going on is that I'm gonna be shooting a video for "Ordinary Thing" in October under direction of Nyika! We are getting ready to do this but am super short of cash and stuff so I've launched a campaing which I'm hoping people will share and hopefully get some aid through. :-) There may even be something in it for you, check it out:
http://www.indiegogo.com/Fund-an-extra-ordinary-video-making-girl-style-for-Karin-Fransson-with-crew?a=205789&i=addr
xxxxK

Today an interview was posted in Jonkopings-Posten about my endeavours in the last couple of years. Really nice job Torbjorn! :-)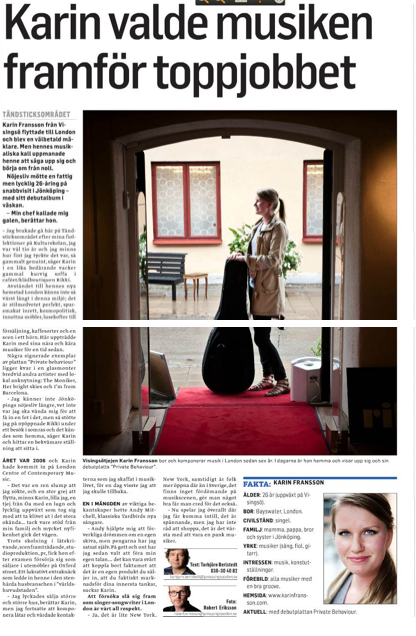 /